Project and task layout customization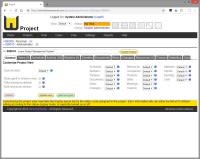 Date: 5th December, 2018
AlchemyWorks Projects now allows you to fully customize each project layout presentation to suite requirements.
Tasks can be set out in a traditional list, tree or grid format, and each aspect of project functionality can be hidden, forced to display, or left at it's default setting for the project type.
New buttons in the console allow you to switch between different layouts, and provide quick links to common functions such as Gantt chart and PERT diagrams.
There are also new tree browser layouts to speed navigation across the project portfolio.
To find out more, and explore the new features, sign up for a free trial today.