Project dependencies tool with drag and drop interface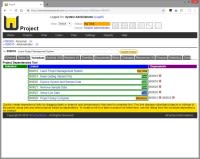 Date: 27th December, 2018
AlchemyWorks releases a new dependency tool to make setting up projects quicker and easier.
The dependencies tool provides a drag and drop interface to rapidly create links between dependent tasks and projects. Simply drop a task over another task or project which it is dependent on to create a link.
Should any recursive or cyclic dependecy links be created, then the entangled projects will be shown in a separate conflicted list. Remove the conflicting links to undo the deadlock. To remove a dependency, just click on the 'X' next to a link.
By default this interface shows all linked tasks and projects related to the current project, along with any subsidiary tasks or siblings if there are none of these. Linked and unlinked tasks show in separate lists. Even if not shown here, dependency links can be created to any project in the system through the schedule dependencies list dialog. Once linked, these remote links will show up in the dependency tool.
The scheduling engine uses dependency links to order tasks in the calendar along with priority and deferral criteria.
Drag and Drop features are also available in other aspects of the system, for example moving tasks and projects around the project tree hierarchy, moving projects from one status to another in Kanban boards, and organizing contacts and users into reporting line structures.
To find out more, and explore the new features, sign up for a free trial today.